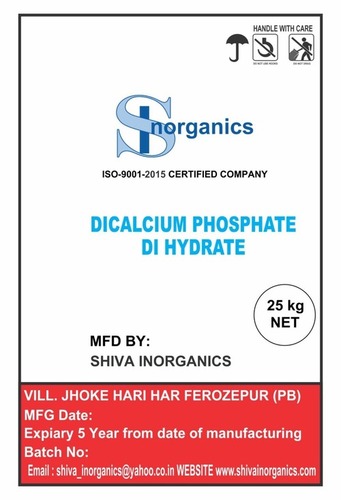 Dicalcium Phosphate
Price And Quantity
Product Specifications
Inorganic Chemicals

Tech Grade
Product Description
We are a well established industry, capable of providing Dicalcium Phosphate to our valued clients. Our chemicals are processed using best-in-class phosphoric acid and calcium carbonate. The Dicalcium Phosphate is used as a nutritional supplement, which provides vitamins and calcium. It is used in the manufacturing process of noodles, breakfast cereals and dog treats. With an aim of providing high-grade chemicals, we quality check these product, to make sure the chemical does not contain any impurities.

Specifications:

FERROUS SULPHATE HEPTAHYDRATE

GENERAL INFORMATION ABOUT OUR PRODUCT

Chemical Formula : FeSO4.7H2O

Physical Aspect : Blue transparent crystal or powder, soluble in water.

Chemical characteristics : FeSO4.7H2O : 99.5 %

Tirumala FERROUS SULPHATE HEPTAHYDRATE can be used for following puposes

For purification of the water:

Before using, the water purification process can be made by applying Ferrous sulphate heptahydrate. Petroleum refineries, Municipalities, Hotels, Military Bases etc. are the main establishments that can use Ferrous sulphate heptahydrate for purification process.

The waste water treatment:
Also Ferrous sulphate heptahydrate can be used to obtain recirculable water from waste water by the same process.

This kind of treatments made basically at the Refineries, Hotels, Military Bases, Industrial plants.

Pharmaceutical, Cosmetics and Food industry.

Treatment of hazardous vast

Chemical manufacturing

Cement Industry

Additive for Animal Feed

FERROUS SULFATE, DRIED Ferrous sulfate, dried consists primarily of the monohydrate with smaller amounts of the tetrahydrate
Chemical Formula

FeSO4 H2O

FeSO4 4H2O

Molecular Weight

Monohydrate: 169.91

Tetrahydrate: 223.91

Assay

Not less than 86% and not more than 89% of FeSO4

Physical properties

A greyish-white to buff-coloured powder




TIRUMALA FERROUS SULFATE, DRIED can be used for following purposes:


Nutrient supplement
Medically to treat iron deficiency
For industrial applications



Magnesium Sulphate:

TIRUMALA Magnesium sulphate is an important chemical compound. Its constituent elements are magnesium, sulfur and oxygen.

It is denoted by the chemical formula MgSO4.7H2O, also known as Epsom salt. It has 7 molecules of water of crystallization.

Physical Properties It is a White, crystalline powder; odourless.

TIRUMALA Magnesium sulphate can bee used in following purposes

Can be used in Feed supplements

Zinc Sulphate Monohydrate


Chemical formula Formula: ZnSO4 H2O

It is a White, crystalline powder; odourless

Tirumala Zinc Sulphate Monohydrate can be used for the following purpose

In feed suppliments as source of zinc.

Zinc is an essential trace mineral that is an important component in skin, bones, hair, nails and eyes. It also plays a functional role in many bodily processes such as cell reproduction, protein synthesis, and hormonal balance.

Zinc sulphate hepta hydrate:

Chemical formula ZnSO4 7H2O

It is a White, crystalline powder; odourless

Tirumala Zinc sulphate hepta hydrate can be used for to supply zinc in animal feeds
Calcium Sulfate:
Chemical formula is CaSO4


Known as Calcium Sulfate

It is a White, crystalline powder; odorless
SHIVA Calcium Sulfate can used for various purposes:

It is mainly used as a food additive and preservative

It is used as an exepient

It is used as source for calcium in animal feed suppliments
Technical Specifications

| | |
| --- | --- |
| Expiry Date | 5 years From Date of Mfg. |
| Pack Size | 25 Kg |
| Mesh Size | 100 Mesh |
| State of Matter/Chemical Form | Powder |
| Color | White |
| Brand | Tirumala Inorganics |
Trade Information
1000 Kg Per Day

Max 1 Week
Contact Us
Village Jhoke, Jhoke Harihar, Firozpur, Punjab, 152003, India
Phone :+918037401791